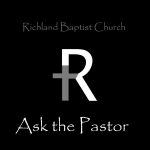 Each Wednesday evening, our church has activities for all ages, including prayer meeting and Bible study for adults. Next Wednesday, August 22nd, we will be resuming Ask the Pastor during our adults' prayer meeting and Bible study time.
Do you have questions about the Bible, faith, church, family, ministry, etc. that you would like to ask Pastor Nick? If so, let us know HERE.
If you are unable to join us on Wednesday evenings, we invite you to listen to the summaries of  Nick's responses to the questions submitted to him. These are available on the free MyRichland App, or you can listen to any of the episodes from this past spring by clicking the appropriate links below.
Episode 01 – Creation, Sin & God's Plan
Episode 02 – What does the Bible say about suicide?
Episode 03 – Favorite Bible Verse & Characters
Episode 04 – How do you start a conversation about Jesus?
Episode 05 – What are the 1,000-year reign and resurrections in Revelation 20?
Episode 06 – Did dinosaurs die in the flood?
Episode 07 – Do you really believe "once saved, always saved"?
Episode 08 – Why do you use the Holman Christian Standard Bible?
Episode 09 – What does "fear the Lord" mean?
Social Share