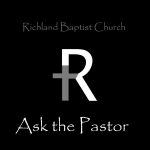 Each Wednesday evening, our church has activities for all ages, including supper at 5:45 and prayer meeting and Bible study for adults. Last Wednesday, we finished (for the time-being) Ask the Pastor during our adults' Bible study time.
Do you have questions about the Bible, faith, church, family, ministry, etc. that you would like to ask Pastor Nick? If so, let us know HERE, as we will resume Ask the Pastor at a later date.
Starting this Wednesday, though, we will be discussing the "Fear of Man." What does it mean to fear man, and how can we live our lives fearing God, rather than being consumed with a fear of what others might think about us?
If you have been unable to join us on Wednesday evenings, we invite you to listen to the summaries of  Nick's responses to the Ask the Pastor questions submitted to him. These are available on the free MyRichland App, or you can listen to any of our previous episodes by clicking the appropriate links below.
Episode 01 – Creation, Sin & God's Plan
Episode 02 – What does the Bible say about suicide?
Episode 03 – Favorite Bible Verse & Characters
Episode 04 – How do you start a conversation about Jesus?
Episode 05 – What are the 1,000-year reign and resurrections in Revelation 20?
Episode 06 – Did dinosaurs die in the flood?
Episode 07 – Do you really believe "once saved, always saved"?
Episode 08 – Why do you use the Holman Christian Standard Bible?
Episode 09 – What does "fear the Lord" mean?
Episode 10 – What are your feelings about cremation?
Episode 11 – Why is church membership so important?
Episode 12 – What does the Bible say about death?
Episode 13 – Why/how did Jesus have to DIE to save us?
Episode 14 – Why will you not be alone with a woman who's not your wife?
Episode 15 – Good, Evil & the Devil
Episode 16 – Why all the killing in the Old Testament?
Episode 17 – Will all people of other religions and/or no religions go to hell?
Episode 18 – What is sexual immorality as stated and defined in the Bible?
As always, you are invited to join us every Sunday and Wednesday. Hope to see you soon!
Social Share