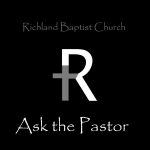 Each Wednesday evening, our church has activities for all ages, including prayer meeting and Bible study for adults. Recently, we have been doing "Ask the Pastor" for our Bible study, giving church members and others an opportunity to submit their questions to Pastor Nick about life, family, culture, ministry, etc. (and what the Bible has to say about such things).
If you are unable to join us on Wednesday evenings, we invite you to listen to the summaries of Pastor Nick's responses to the questions submitted to him each week. These are available on the free MyRichland App, and you can also listen to them by clicking the links below.
Episode 01 – Creation, Sin & God's Plan
Episode 02 – What does the Bible say about suicide?
Episode 03 – Favorite Bible Verse & Characters
Episode 04 – How do you start a conversation about Jesus?
Questions about Richland Baptist Church or want to submit a question of your own? Please contact us.
Social Share