During May, which is Associational Emphasis month, we invite you to participate this week in the Association Week of Prayer.  This is a time where we focus as an association of churches on the overall mission and work of the association.
Sunday, May 15: Pray for your church.
Monday, May 16: Pray for the HMBA churches and their pastors.
Tuesday, May 17: Pray for the REACH of our association.
Wednesday, May 18: Pray for your Director of Missions, Preston Thompson.
Thursday, May 19: Pray for harvest workers.
Friday, May 20: Pray for our Associate Director of Missions, Charles Gholson.
Saturday, May 21: Pray for the Leadership Council and Executive Board for HMBA.
Sunday, May 22: Pray for the Mission and Vision of HMBA.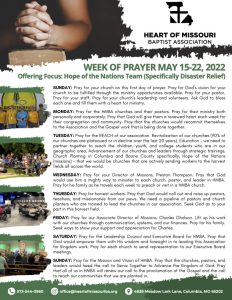 Social Share