On January 12th our Grand Crossings Baptist Association unanimously approved Preston Thompson as our new Associational Missionary (also known as "Director of Missions" – DOM). Having previously served as the Associate Pastor at Southside Baptist Church in Fulton, Preston is not new to our association. In fact, he has been involved in missions with our association for years and has a great passion for the gospel and a heart for God's mission to reach the nations.
Below is Preston's challenge to our association and his vision for ministry.
…
About a year ago a revivalist and his son came to the church where I was on staff, to conduct one of our annual revivals.  As we were sitting down at a restaurant for lunch, we began discussing different ways to conduct worship in a service.  The son, who is a well-known music professor, told this story about his upbringing: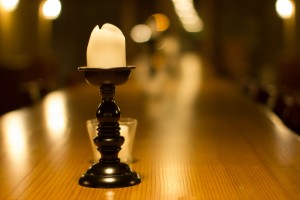 "My sisters and I grew up at our home with mostly mom around.  We each had a meal that was our favorite, and they were all different.  Our mother could not possibly fix each of our favorite meals every time we sat down to eat.  One of my sister's favorite meals was chicken and dumplings.  I don't particularly like chicken and dumplings.  But you know what? I received the greatest joy when mom would serve my sister her favorite meal for supper.  I realized that it was not about what was on my plate, but rather that I was simply at the table."
The churches of Grand Crossings need to return to the table…together.  Yes, every church has things that are specific to its church and its ministry.  If we relate our association to this story, the needs of every church would be considered "what is on our plates."  We can become very fixated on these needs and thus isolate ourselves from the table.  As a family of churches together in the GCBA, we are each individually responsible to be at the table.
The "table" for our group of churches is our dual call to the proclamation of the Gospel and to the pursuit of our communities. Our churches are connected to each other, just like a body or a family.  Sometimes we find ourselves serving the same people and/or in the same towns.  When we sit down at the table together, we share each other's burdens, support each other's ministries, and celebrate each other's victories.  We find instruction and correction at the table, as well as inspiration and motivation.  Together we can do more, better.
Jesus used the table as a place to minister to his disciples, to his followers, and even to the lost.  It was at the table that he ministered to those who were new to following him (Matthew 9:10-13), disciplined his disciples (Matthew 14:3-9), called out those who were in sin (Luke 22:14-23), displayed servanthood (John 13:4-20), and encouraged those who believed to keep their eyes on him (Luke 10:40-42).  When we come to the table, we will experience many of the same things because of the unity of the Spirit of Christ in us.
As I have surveyed GCBA, I noticed one thing right from the start – we don't know each other.  There are 35 churches that stretch 75 miles north to south and 42 miles east to west, which make up Grand Crossings.  We are vast and we are great, and we are going to have to make an effort to come to the table–together.  On the next page, you will find my vision plan for the next year.  I believe it will begin to bring us back to the table – together.  It is based upon 3 key elements:  Discover, Develop, and Deploy. Additionally, I believe it will fulfill our ultimate goal of living out Acts 1:8.  My prayer is that you, your church, and your ministries will join me at the table this year.
Preston Thompson, DOM
"Serving churches to advance the Kingdom of Christ"

…
Note: You can read this original letter, along with Preston's vision plan HERE.
Social Share