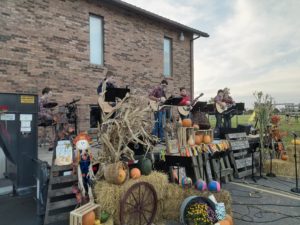 Our annual Fall Festival is this coming Sunday, October 18th from 4-7 p.m. This event includes supper, live music, games for all ages, the bounce house, popcorn, a couple of bonfires, multiple hayrides, prizes, and more. Please invite family and friends for this exciting event for all ages.
Of course, we will be doing things a little differently this year due to the COVID-19 pandemic, as we seek to be careful and allow for social distancing and proper safety measures.
Something folks in our church and in our community look forward to each year, though, the fall festival is a great opportunity to fellowship with others, make new friends, enjoy great food, and have a lot of fun. Because there is no set program, you can come and go as you please, but the music, games and activities will start at 4:00, with a COVID-cautious hayride (masks and distancing) at 4:15, supper around 5:00, and the last event of the evening, the family hayrides, starting around 6:00.
We hope to see you Sunday!
Please, though, continue to pray for a miraculous change in the weather for Sunday afternoon and evening. If the rain that is in the forecast right now does indeed come, we will adjust our plans and move the meal for the fall festival to NOON. A final decision will be made by Saturday evening, to allow for those readying the feast to be prepared.
Regardless, we hope to see you Sunday morning for Family Groups (9:30 a.m.) and our worship celebration (10:40 a.m.). Then, we will enjoy some delicious food together at one time or another on Sunday. Hopefully, though, we will also be able to have our other activities.
For our regular schedule, please click
HERE
. If you have any questions, don't hesitate to
contact us
.
PICTURES FROM OUR 2019 FESTIVAL
Social Share