This Sunday, April 5th, is Resurrection Sunday (Easter). Yes, it is the day we celebrate Jesus' resurrection from the dead. Truly, we celebrate the death and resurrection of our Lord every single day, but Easter Sunday is the day the Church rejoices together in remembrance of the victory over death by the King of kings and Lord of lords.
If you do not have a church family, we would like to invite you to join us this Sunday (and every Sunday) to celebrate our Savior and build up His body. We have Family Groups for all ages at 9:30 a.m., followed by Worship at 10:40 a.m.
"I am not ashamed of the gospel, because it is God's power for salvation to everyone who believes" (Romans 1:16). Will you believe, live and proclaim the gospel with us?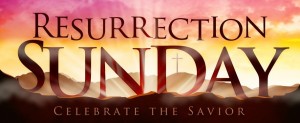 Social Share