Do you ever wish you could develop better habits that would have a positive impact on your life and the lives of others? Do you struggle with prioritizing the most important things? Our prayer is that we can walk alongside you as you make wise decisions and walk in faith and obedience to the Word of God.
This coming Sunday, April 23rd, we will be starting a new sermon series on the Habits for Godly Living. We hope you'll join us for this eight-week series that will take us into June. Learn what habits, according to the Bible, you should develop and maintain as a faithful follower of Jesus Christ.
Schedule of Messages:
Sunday, April 23 – "Bible Study" (Psalm 119)
Sunday, April 30 – "Prayer" (Matthew 6:5-15)
Sunday, May 7 – "Fasting" (Matthew 6:16-18)
Sunday, May 28 – "Service" (John 13:12-16)
Sunday, June 4 – "Worship" (Psalm 95)
Sunday, June 11 – "Stewardship" (Matthew 6:1-4, 19-34)
Sunday, June 18 – "Evangelism" (Matthew 28:16-20; Acts 1:8)
Sunday, June 25 – "Learning" (Proverbs)
A reminder that our Sunday morning worship services are at 10:40. For our complete schedule, click HERE. If you have any questions or would like more information, please contact us.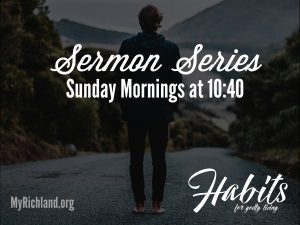 Social Share