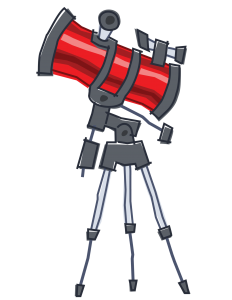 VBS is just a few days away, as we start Sunday evening at 5:00!
Searching the visible. Discovering the invisible. That's this year's VBS motto. Jesus is the image of the invisible God, and we pray that He will reveal Himself to many children and their families this summer! The dates are July 23-27 (Sunday – Thursday, 5-8 p.m.). We hope your kids will join us and that you will consider volunteering. Then, our annual VBS Family Celebration will be Sunday, July 30 at 10:40 a.m. (with lunch and carnival to follow).
Discover the incredible mysteries of the final frontier—right from your own backyard. Your telescope becomes a portal through which you encounter amazing and wonderful things designed by a Creator who is even bigger than the vastness of His creation. But the most amazing wonder to be discovered truly boggles the mind. The God who created everything there is—the knowable and the unknowable, the visible and the invisible—wants a relationship with you! And from the very beginning, God had a plan to restore the relationship He knew we would break.
Will you join us for VBS week and celebration Sunday?
Supper will be served for participating children and volunteers each evening at 5, followed by the VBS evening program (games, activities, music, missions and Bible study) from 5:30 – 8. VBS is for children grades pre-school (potty-trained and at least four years old) through sixth grade (those who just completed sixth grade and are going into seventh grade). For more information and/or for pre-registration, please contact us.
Social Share