adults
,
Bible Study
,
devotions
,
families
,
family
,
fellowship
,
food
,
kids
,
men
,
prayer
,
singles
,
Wednesday
,
Wednesdays
,
women
,
youth
While the official Wednesday night gatherings for TeamKID and 412 Group are done for the summer, our suppers (5:45 – 6:30) and activities (6:30 – 7:30) continue throughout the summer. In fact, we are starting something new, beginning this Wednesday, May 30th. After supper, we will be having "Family Fellowship Devotions," an informal time of fellowship and Bible study for the purpose of modeling daily devotions in the home. Everyone of all ages (singles, couples, families, etc.) is invited to join us!
Although there will be no childcare provided on Wednesday evenings during the summer months, we still encourage families with children to join us, as our Family Fellowship Devotions will be very informal and will be intentionally geared toward everyone, including children. We want to grow together as a family, and we believe this will be a great way to do that.
So, join us for supper at 5:45, followed by an informal time of fellowship (when the kids will be welcome to play games, play at the playground, etc.)* until 7:00, at which time we will have a short Bible study and group discussion time. For those interested and without children, prayer meeting will be from 6:30 – 7:00, at which time you can join the rest for Bible study.
If you have any questions, please contact us. Hope to see you Wednesday!
*NOTE: Parents and guardians will be responsible for the supervision of their children during the entirety of our Wednesday evening activities.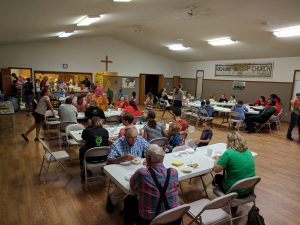 Social Share