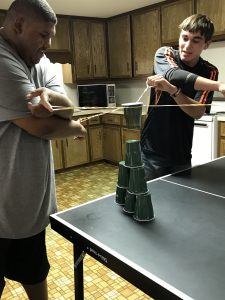 We're less than a week away from our regular Wednesday evening activities resuming. While 412 Group and our adults' prayer and Bible study meet year-round, some of our other Wednesday evening activities break for the summer months. Our free weekly meal and age-graded activities resume on August 23rd.
Do you ever find yourself struggling with discouragement, exhaustion and/or stress in the midst of a busy week? Or, do you simply find yourself struggling spiritually, regardless of how your week is going? Joining Richland for our Wednesday evening activities is a great way to get encouraged, challenged, sharpened and equipped to continue your daily journey in the faith.
And, if you are already doing well, Wednesday evenings are a great time to be a blessing and encouragement others who might be struggling. Please make plans to join us.
Here's the basic rundown:
5:45 – 6:15 p.m. – Evening Meal
–Our Wednesday evening meal is a great time of fellowship and encouragement. Everyone is invited to join us for great food and fun together.
6:15 – 7:30 p.m. – TeamKID & Youth Group
–TeamKID (separate groups for nursery, preschool/kindergarten, and elementary (1st – 5th grade)) has a great time each week with games, missions and Bible study. Also, 412 Group (students in grades 6-12) meets for games, fellowship and Bible study.
6:30 – 7:30 p.m. – Adults' Prayer and Bible Study
–Our weekly adults' gathering focuses on praying for needs both inside and outside our church family, followed by a group Bible study. Currently, we are studying what God's Word says about what a healthy church is.
If you have any questions, want more information or want to learn more about serving in one of our Wednesday evening ministries, please contact us.
Social Share